Dr. Ramanathan Vairavan Honored with Lifetime Achievement Award by ATEA, USA
San Francisco, California, USA | 23rd Sep 2023
Dr Ramanathan Vairavan, an esteemed entrepreneur and educationalist, was recently bestowed with the prestigious Lifetime Achievement Award by the American Tamil Entrepreneurs Association (ATEA) for his remarkable contributions to education, arts, and philanthropy, in tandem with his lifelong dedication to transforming lives. The award ceremony took place during the CATEALYZE - ATEA's Annual Leadership and Technology Conference on September 23rd, 2023, in the Silicon Valley with attendance by about 350 entrepreneurs, investors, venture capitalists etc.
Dr Vairavan, the grandson of the revered philanthropist Dr RM. Alagappa Chettiar, holds a distinguished career spanning over four decades in the healthcare industry and education sectors. His extensive experience, including executive roles in multinational companies, ultimately led him to establish a pioneering biotechnology company that revolutionized disease signatures through genomic and proteomic profiling. Presently, Dr Vairavan directs his expertise and passion at DiaCarta, a molecular diagnostics company that has developed innovative technologies that enhance patient care by providing effective precision diagnostics in cancer treatment.
At the heart of Dr Vairavan's achievements lies his profound commitment to education and philanthropy. As Chairman/Secretary of the Dr Alagappa Chettiar Educational Trust in Karaikudi and the Asoka Charitable Trust in Chennai, he oversees the education of over 8000 students across various educational levels.
During the award ceremony, Dr Ramanathan Vairavan passionately emphasized "In a mere 47 years, my grandfather, Dr Alagappa Chettiar, left an indelible mark on the transformation of Karaikudi. He converted a 1000-acre jungle into a galaxy of educational institutions that has produced over 3 million alumni.
"At his demise, Alagappa Chettiar had nothing left to his name as he had donated his home to establish a women's college and moved into a locker room of a cricket stadium", he told the gathering that "Entrepreneurs need to develop the heart to give back to society" He announced that he was on a mission to build a College of Medical Sciences including a College of Ayurvedic Medicine at Karaikudi to further enhance the spectrum of education and benefit the community".
Dr Vairavan's academic credentials include a BS in Chemical Engineering from AC Tech in Madras, an MS in Biomedical Engineering from Washington University, St. Louis, and an MBA from Fairleigh Dickinson University. He was conferred with an honorary doctorate by Alagappa University, Tamil Nadu, India, in 2018 and a Distinguished Alumni Awardee of AC Tech, Anna University.
His contributions extend beyond business and academia, encompassing roles as a Syndicate Member of Alagappa University and President of the Tamil Issai Sangam in Karaikudi. The Lifetime Achievement Award from ATEA stands as a testament to Dr Vairavan's impactful journey and unwavering dedication to education, arts, and philanthropy.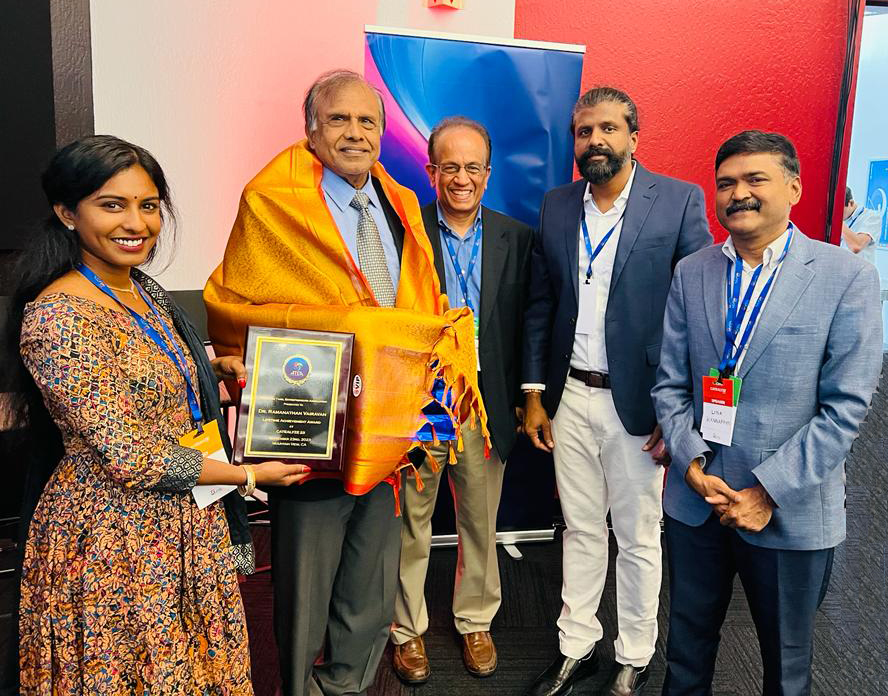 For media inquiries and more information, please contact:
Vignesh Ganesan
Vignesh@alagappa.org
Ph-9080021245